May 25, 2017 5:42 pm
ST. LOUIS (May 24, 2017) – As of May 9, 2017, Gateway to Hope has welcomed a new Board of Directors President, Susan P. Sullivan.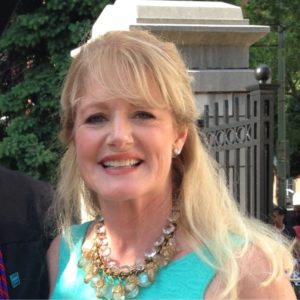 Sullivan has been a very involved member of the board since she joined in 2010. During her seven-year tenure she has served on both the Investment and Executive Committees, and as Treasurer for the board.
She was originally drawn to join the board because, "[she] was deeply impacted by patients who had lost hope because they had no access to treatment for their breast cancer. They couldn't afford health insurance, or their policies had limited coverage, or they lost their jobs and couldn't afford COBRA. Gateway to Hope provided a lifeline to these patients by covering their care".
Sullivan adds her new position as President to an already impressive resume of service. In addition to her role on the Gateway to Hope Board of Directors, she also serves as a board member for the St. Louis Community Foundation, a trustee for ISACS, the Independent Schools Association of the Central States, and the Advisory Board of Rossman School.
Professionally, she is a freelance strategic planning consultant. Her past corporate experience includes several executive leadership positions at Ralston Purina and Ralcorp Holdings including President of baby foods maker, Beech-Nut Nutrition Corp. Her extensive experience in management, marketing, branding and strategic planning will be an asset to Gateway to Hope moving forward.
Sullivan says that three of her main priorities for the organization are, "to reach ALL breast cancer patients in need and help remove barriers that keep them from medical treatment, to connect with philanthropic individuals and organizations who want their funding to have an immediate impact on women fighting breast cancer TODAY, and to extend the GTH model beyond our region." Sullivan will be succeeding Marty Moore, who is the current Chief Financial Officer of Gardner Capital, Inc. Moore will remain an active member of the Gateway to Hope Board of Directors.
About Gateway to Hope
Founded in 2005 by Dr. David Caplin, a plastic/reconstructive surgeon, and Dr. Marlys Schuh, an oncologic breast surgeon, Gateway to Hope secures comprehensive care and provides financial assistance for individuals in need diagnosed with or at high risk for developing breast cancer. More than 1,000 women have received services ranging from financial assistance with mortgage and utility payments to the full spectrum of surgical and medical care. Through corporate and private sector donations, the Gateway to Hope Insurance Premium Program was initiated in 2015. This innovative program assists with the payment of health insurance premiums for individuals undergoing breast cancer treatment and reconstruction. For more information, or if you or someone you know has breast cancer, please call the Gateway to Hope Breast Cancer Lifeline at 314-569-1113, or visit www.gthstl.org.
#  #  #